As 2021 draws to a close, the OSS staff, board and volunteers have been reflecting on progress during a second year of Covid challenges. What have we done? Where has the OSS created impact? What is the focus for 2022?
BUILDING EVIDENCE AND INSIGHT
This year, we have published three research papers and began work on three separate projects that will help us to build evidence and insight to sport's relationship with health, education, community resilience and Covid recovery through 2022 and beyond.
In May, the OSS carried out the first nationwide survey of Covid impact on the activity levels of adults in Scotland. We surveyed a representative cohort of over 1,000 adults aged from 18 to late 80s, evenly split across genders and Scottish Index of Multiple Deprivation (SIMD) backgrounds. OSS lead researcher, Sport England's former Head of Research Strategy Nick Rowe, led the analysis and found that 47% of people surveyed reported to doing a lot or a little less activity during the first year of the pandemic, and just 14% had done more. Walking levels had risen by around 45% which was a real positive, but this did not balance the loss of community sport activity across all age groups. Read Nick's report here.
In August, research by OSS reseach advisers, Professors Richard Davison and Gayle McPherson from the University of the West of Scotland (UWS), investigated knowledge gaps around disability and sport research in Scotland. They identified that no research into disability and sport had been conducted since 2001, leaving Scottish organisations to rely on English or UK data with small Scottish cohorts for insight and guidance. The report identified a lack of cohesion and consistency in how disability is recorded when it comes to physical activity, and significant gaps in activity levels between people with disabilities and people without disabilities. This report helped Scottish Disability Sport to shape its new strategy, and led to the commissioning of a more in-depth disability sport research project, supported by the Peter Harrison Foundation, and a first OSS Master of Research (MRes) appointment in partnership with UWS, in Gemma Lumsdaine (pictured right). Read the research here.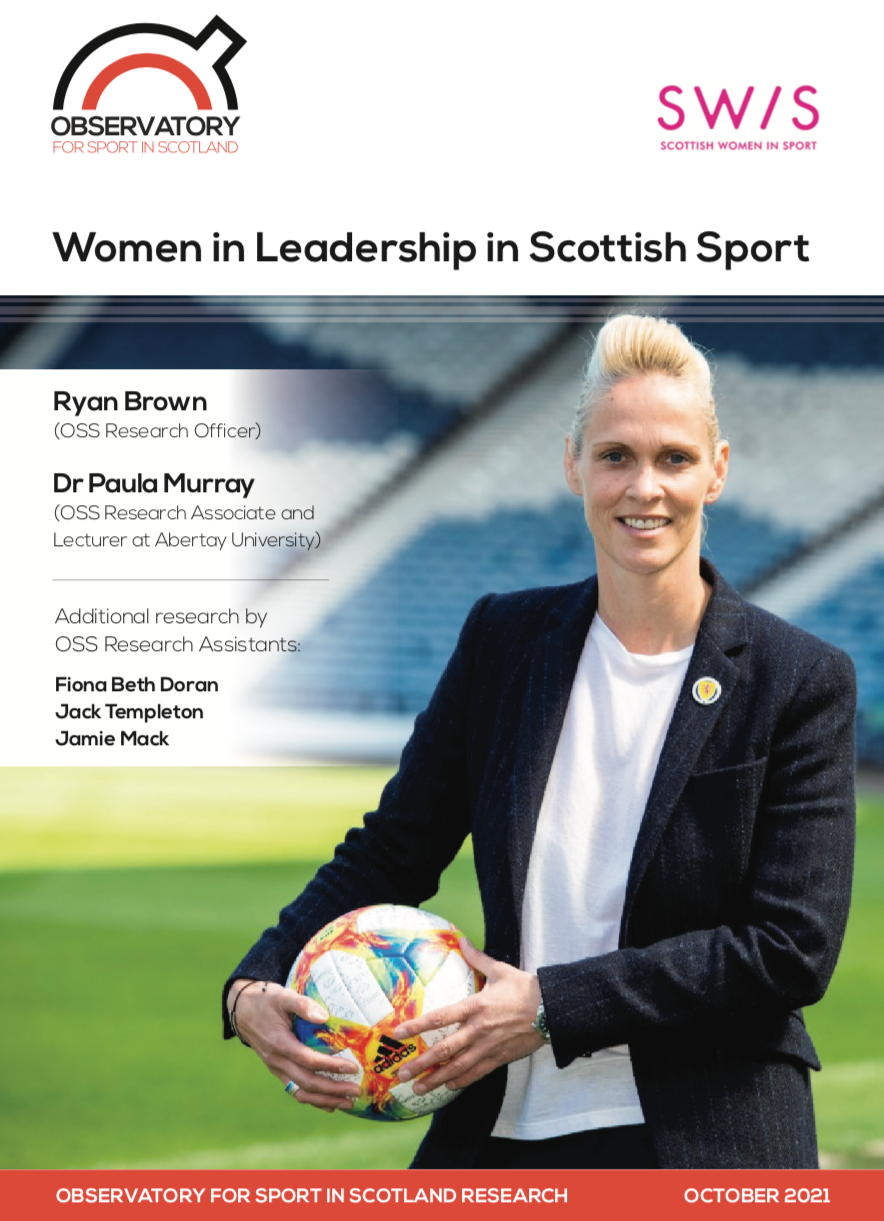 To coincide with the 'Scottish Women and Girls Week' at the end of October, the OSS published research led by OSS Research Officer Ryan Brown and OSS Research Associate Dr Paula Murray of Abertay University, which looked at trends around women in leadership positions across Scottish sport. This research revealed that Scottish sport is improving its gender balance, but remains 25 years away from gender equality in top sporting governance roles at the current pace of change. Among recommendations made in the report, that stemmed from interviews with sport bodies, were calls for Sportscotland to consider following the UK and Ireland's other sport bodies' lead on gender targets, and introducing a 'Women and Girls' position to provide specific guidance and support. Find the research here.
In 2021, the OSS developed partnerships to scope key research projects that will be developed in 2022. The first was our 'Enabling and Empowering Deprived Communities' project in partnership with Street Soccer Scotland (SSS). This project is investigating SSS' take-over of the Lynch Centre in Dundee in August, and its new use as a hub for football and support sessions. The OSS is working with the players to fully understand the impact of SSS programmes on people and families from backgrounds of poverty, homelessness, mental health problems, addiction and crime, and analyse the charity's innovative model of community facility management.
In the New Year, the OSS will launch a project investigating how dance is helping teenage girls in the Highlands become confident community leaders, tackling low self-esteem, inactivity, disengagement and employability challenges. The 2022 project with High Life Highland and the University of Highland and Islands will research HLH's innovative 'Movers & Shakers' programme, and is supported by the Crerar Trust.
The OSS has also been discussing projects in response to the Covid pandemic with the Scottish Government, sportscotland, leisure trusts and community sport deliverers, that would research the challenges facing sport, leisure and recreation delivery and facility management, and the Covid impact on Scotland's sport activity levels as global figures suggest as many as 40% of previously active children not yet returning to sport.
We are in discussions with a wide variety of Scottish and global partners interested in researching areas from golf to revitalising town and city centres, co-location of health and sport services and facilities to assessing the Covid impact on children's activity and education. If you wish to partner on research, email: ryan@oss.scot.
INCREASING EXPERTISE, KNOWLEDGE AND INFLUENCE
In 2021, the OSS has welcomed five new board members with areas of expertise in government, business, data analysis, women's sport and sport management to help guide the organisation (see here), led by new Chairman, Geoff Aberdein (right), former Chief of Staff to the First Minister.
Alongside our Sport Leaders Group, that connects with stakeholders from all levels of sport delivery, we created a Business Development Group to identify how we can assist businesses to ensure they are using sport and physical activity to its fullest to keep employees healthy and productive, and to help the OSS to become a sustainable organisation long into the future. Now featuring ten leading business men and women it is helping us to engage with business and shape guidance for the corporate world in supporting Scotland's workforce to emerge healthier from lockdowns.
We also created an OSS Ambassador programme (see here). Our Ambassadors range from Olympic athletes to community heroes, but all bring their experience and knowledge of, and strong passion for community sport in Scotland. The Ambassadors will be working closely in 2022 with the OSS and our partners to grow understanding of how and where sport activity can improve the health of individuals, communities, the workforce and companies.
We have also grown our researcher stable from just 10 researchers at the start of 2021 to now sit at 50. Researchers have approached the OSS from across the UK and globally to provide research and evidence, share insight and thinking on solutions to challenges, and collaborate to identify knowledge gaps and shape our research priorities. They offer a unique breadth of expertise on sport's relationship with health and wellbeing, community cohesion, education, employment and the economy, to Scottish stakeholders from community to national levels. If you need reliable data and insight on any aspect of activity, good and bad, get in touch with our Research Officer Ryan Brown – ryan@oss.scot.
MANIFESTO FOR SPORT
In April, the OSS published its first 'Manifesto for Sport' ahead of the Scottish Elections, and it received support from all the political parties. We also held our first Election Hustings, at which the five main parties all took part, and agreed that our evidence-backed demands were of significance for the health of the nation and Covid recovery. Media across Scotland backed our calls to increase support for community health through investing in sport, providing platforms for a wide variety of stakeholders engaged in indoor and outdoor sport and recreation. All the major newspaper titles and broadcasters helped to publicise OSS research and partners' views widely throughout the year and we thank them for their ongoing support.
The political engagement continued through the year with meetings with Deputy First Minister and now Cabinet Secretary for Covid Recovery, John Swinney, and the Director of Covid Recovery, Mary McAllan, to identify how our research and stakeholder engagement can help the Scottish Government, local authorities and wider community sport partners to plot effective policy that invests in sport, leisure and recreation as a route to helping all ages across the Scottish population recover physical and mental health. Those meetings will continue into 2022, as will discussions with all political parties and presentations to the Scottish parliament, the OSS joining Scottish Disability Sport, High Life Highland and the Scottish Sports Association in November to provide evidence to the new Health, Social Care and Sport Committee's first focus on sport.
OSS SUPPORTER EVENTS
During 2021, we ran five exclusive OSS Supporter events, all switched to online as a result of the pandemic, but attended by over 100 existing supporters and some new faces. Our 'In Conversation with…' events provided a focus on major sporting events, including the Calcutta Cup, the Euro Championships in football, the  British and Irish Lions tour, the Solheim Cup and Ryder Cup in golf, and global corruption in sport with the International Olympic Committee's longest serving committee member, Dick Pound. All events addressed key issues within each sport, and debated the Scottish picture and solutions to problems.
We would like to thank our supporters Andy Nicol, Brian Moore, Jim Telfer, Andy Irvine, Sir Ian McGeechan, Michael Stewart, Shelley Kerr, Catriona Matthew, Paul Lawrie, Martin Gilbert, Dick Pound and Jens Seyer Andersen for their support, and valuable insight, and all who attended. Many have asked for a reprise of the Dick Pound interview, so feel free to listen again here. To join the events, email David Ferguson: david@oss.scot.
We are currently lining up Ashes cricket legends from both sides of the historic divide for a review of the Ashes, and reflections on Scotland's cricket in 2021, in January, we are holding a Business Breakfast in February with leading business men and women looking at creating a healthier workforce, and we are already planning the return of the OSS National Sport Summit in autumn 2022, where we turn the spotlight on the role community sport activity will play in Scotland's Covid recovery and improving the nation's health, education, social cohesion and economy. To join us, email CEO David ferguson: david@oss.scot.
THANK YOU TO ALL OF OUR SUPPORTERS
We would like to wish a great thank you to everyone who has supported the OSS in 2021 and continued to help us grow. Without your support, the important research, data analysis and evidence gathering would not have been possible, and we would not be able to support partners to use that valuable evidence to grow participation and inclusion in sport. We wish you all a fantastic festive period, and look forward to strengthening our relationships in 2022 with the simple outcome of enabling everyone in Scotland to access fun sport activity.