OSS Ambassadors are united with OSS in it's mission to change the world through sport. They are inspirational role models who share a belief in the power of community sport to bring people together, break down barriers and foster a world of inclusion, and tangible and lasting benefits to health, education and the economy.
Kathleen Dawson, who swims for the University of Stirling Swimming Team, won gold in her first Olympic Games with the Team GB mixed medley relay team at the Tokyo Olympics. One of the world's leading backstroke swimmers, she finished sixth in her first Olympic final before later in the week going on to launch the relay team to first place and a new world record.
Kathleen was born in Kirkcaldy and moved to Warrington in England at the age of three. Now 23, she has been swimming at club level for the last 14 years, having started at Warrington Warriors Swimming Club and gone on to join the Stirling squad under coach Steve Tigg. She has been competing at national and international level since 2013, swimming at the European Junior Championships for Great Britain and then representing Scotland in the Glasgow Commonwealth Games in 2014. Since then, she became the first Scottish woman to swim under one minute in the 100m backstroke, at the European Championships in 2016, finishing third in 59.68, and also reached the 100m backstroke final in the Budapest World Championships in 2017. In 2018, Kathleen competed at the Gold Coast Commonwealth Games and the European Championships, before enduring a lenthy lay-off due to the Covid-19 pandemic.
She returned to the pool in devastating form in 2021, becoming the fastest Brit ever to swim the 100m Backstroke outside of the suited era, timing 58.24, to secure her place in Team GB for the Tokyo Olympics and went on to win three gold medals and a silver at the European Championships in Budapest, breaking the British and European record in the 100m backstroke, and becoming the fastest European female swimmer and fourth in the world of all time in the 100m backstroke. Her Olympics performance would see Kathleen become the first Scottish female in 58 years to win a swimming medal at the Games and the first in 109 years to win a gold medal.
She has also always had a passion for art since she she was young, and has continued to draw and progress her art during the pandemic. She is also passionate about animals, and would like to have a role looking after animals after her swimming career.
Rhys is one of Scotland's leading advocates for children and young people and after picking up countless accolades while still a pupil himself, he is now developing a successful schools programme using sport as a key tool to help children and young people to set and achieve new goals, and reduce anti-social behaviour, drugs, crime and weapons use.
Rhys' passion for sport was developed through his childhood and flourished in his teenage years in boxing where he won western district and Scottish titles, and represented Scotland on the international stage.
Rhys was born with six different disabilities, including a hole in the heart and autism. He was recognised as the first disabled boxer in the UK to compete in mainstream boxing and picked up numerous sports personality awards from his home region of Inverclyde to national recognition in the Young Scot/Sunday Mail Awards alongside Laura Muir and Maria Lyle. He was a member of the Young Scot/sportscotland Sport Panel, was a Scottish Government Year of Young People Ambassador, BBC Young Reporter Scottish winner and BBC Next participant, and was selected as a 'Fighting for Autism European Elite Ambassador'. He also remains the youngest ever Scottish Highland Games Chieftain.
Rhys left Notre Dame High School in Greenock in 2019 with five National 5 qualifications and, after qualifying as a Physical Training instructor, and passing fitness coaching, and disability sport qualifications in 2021, has returned to his roots to lead boxing sessions targeted at students seeking a focus in life.
He works for various employers, including Inverclyde Council and Inverclyde Leisure, and leads programmes across several secondary schools, and with the residential Kibble School in Paisley, all with a focus on using boxing coaching as a tool to reduce anti-social behaviour, drug abuse, crime and weapons use.
In 2021, he also earned the Enable Scotland Outstanding Achievement award, for his contribution to building an equal society for everyone with a learning disability.
And Rhys still has time to continue his own boxing training, as well as mixed martial arts and Muay Thai Kick Boxing.
Shelley Kerr MBE is one of Scotland's leading football internationalists and coaches, having played as a central defender for clubs in Scotland and England, won every domestic honour in Scotland, played in the UEFA Women's Cup and captained her country during a 19-year international career in which she won 59 caps.
As a coach, Shelley worked with Kilmarnock, Hibernian and Spartans before taking charge of the Scotland women's under-19 national squad in 2009. She gained the UEFA Pro Licence in 2013, and went on to lead Arsenal to two FA Women's Cups and Continental Cup. The Broxburn native made British football history when she took over as manager of the Stirling University men's team, the first female to take charge of a senior men's side in the UK, while studying for a degree. She then took over from Anna Signeul as Scotland women's national team manager and guided Scotland to their first women's World Cup Finals and first World Cup at any level since 1998.
She joined the OSS Board after stepping down from that position in December 2020, after four years at the helm, and took up a role as technical lead for the English FA, overseeing all national sides.
Kieron has recently retired from professional basketball after a career spanning more than two decades. He studied at university in Pittsburgh, USA, and went on to live and play professionally in Italy, Greece and Bulgaria before returning back to Scotland to play for the Glasgow Rocks. He was captain of Scotland and Great Britain, earning 105 international caps and competing in the London 2012 Olympics and 2018 Commonwealth Games.
Kieron currently works with various organisations championing athlete transition and mental health awareness as well as being patron founder of 'Rocks in the Community', which uses sport as a tool to better people's lives.
He said: "I am indebted to sport as it was a tool that allowed me to believe that I was capable of achieving something. Sport is such a powerful tool to inspire, motivate and teach valuable life skills.
"Sport was something I enjoyed because I was accepted in it. Being extremely tall meant I stood out and felt uncomfortable with at times but it was an advantage in some sports, therefore it allowed me to embrace my uniqueness.
"When leaders in sport have the correct mindset, sport can be used as a tool to bring different communities together. There aren't too many other things that can do this so successfully.
"This is why I truly love sport and feel it is my duty to help inspire those who do not know and understand sport, while also aiding in eradicating barriers to the gateways into sport."
Kirsty has been one of Scotland's most successful sports women, having competed in the Commonwealth Games 2014 and 2018, the Rio Olympics in 2016 and currently on track for the Tokyo Games this summer. She has collected a haul of medals from those and other Scottish, European and world events, and been ranked in the world's top 14 for badminton - a rare feat for a British performer.
Away from the court, Kirsty showed her creative side in securing a BA in Creative Industries Practice (Film-making and Screen Writing), and as well as being an Ambassador for the Women's Sport Alliance she has worked with fellow badminton legends, coaches and Badminton Scotland to launch the Badminton Academy Social Enterprise (BASE) in Glasgow, which she hopes will help take the game back to its community roots where people of all ages can have a go in their communities.
She said: "I've reached a point in my career where I have become reflective in a way I haven't been up until this point, not just on my training and time on court but all the elements that have influenced my journey. I was extremely privileged to be born into a sporting family who gave me access to any activity I fancied trying my hand at. Nothing else prepares you for life in the way sport can and I want as many people as possible to experience that in a fun, safe and informed way. It's great to be involved with the OSS as any organisation that boosts and elevates sport at a community level, I support wholeheartedly."
Ali Hay gained global fame as the 'Bearded Ninja' appearing in the British and Japanese TV shows, 'Ninja Warrior', which tested competitors' ability to cross hugely testing obstacle courses. From the Scottish Borders, Ali was a keen basketball player in his youth, representing Scotland before he moved into snowboarding and skateboarding and competing around the world.
Ali travelled extensively across the Southern Hemisphere and North America developing his sport and fitness career, before entering the 'Ninja Warrior' competitions and reaching three TV finals in the UK and being invited to compete in Japan. Now 32, with two young boys, Ali has developed the Ninja Warrior phenomenon by converting an old supermarket in Edinburgh into Scotland's first Ninja Warrior UK Adventure venue, and is the Chair of UK Ninja Warrior, with the aim of inspiring people of all ages, individuals and families, to be active. He also raised over £250,000 to develop a community skate park and has continued to develop free community fitness activities, persuading a local authority to support re-modelling of parkland in his native Kelso. His community sport efforts earned him TSB Community Partnership, Rotary Club 'Citizen of the Year' and Daily Mirror Pride of Sports awards.
Born in Paisley, the youngest of four boys, Martin has a condition known as Congenital Limb Loss and Deformity which resulted in him being born with no hands and only one leg. He required to have surgery as a child to help him walk and play as normal, and he soon took to a variety of sports.
He explains: "Having three older brothers, I wasn't allowed to feel sorry for myself; they made sure that I was included in everything they did. A massive part of everything they did was sport. They would put me in goals thinking that having no hands would stop me saving the football. My determination to not let my brothers win was a big driving factor, and this sparked a competitive attitude in me that I still have today.
"Throughout my life I have played many sports, ranging from football to rugby, basketball and athletics. However, the most logical choice of sport, when you have no hands, is surely table tennis! I started playing table tennis at the age of 17 thanks to help from Scottish Disability Sport and Drumchapel Table Tennis Club in Glasgow. After witnessing Paralympics GB win two team medals at London 2012 I knew I wanted to dedicate myself entirely to the sport. I put a lot more time and effort into the game and in 2015 I had earned the privilege of being invited to train full time with the British Para Table Tennis Team."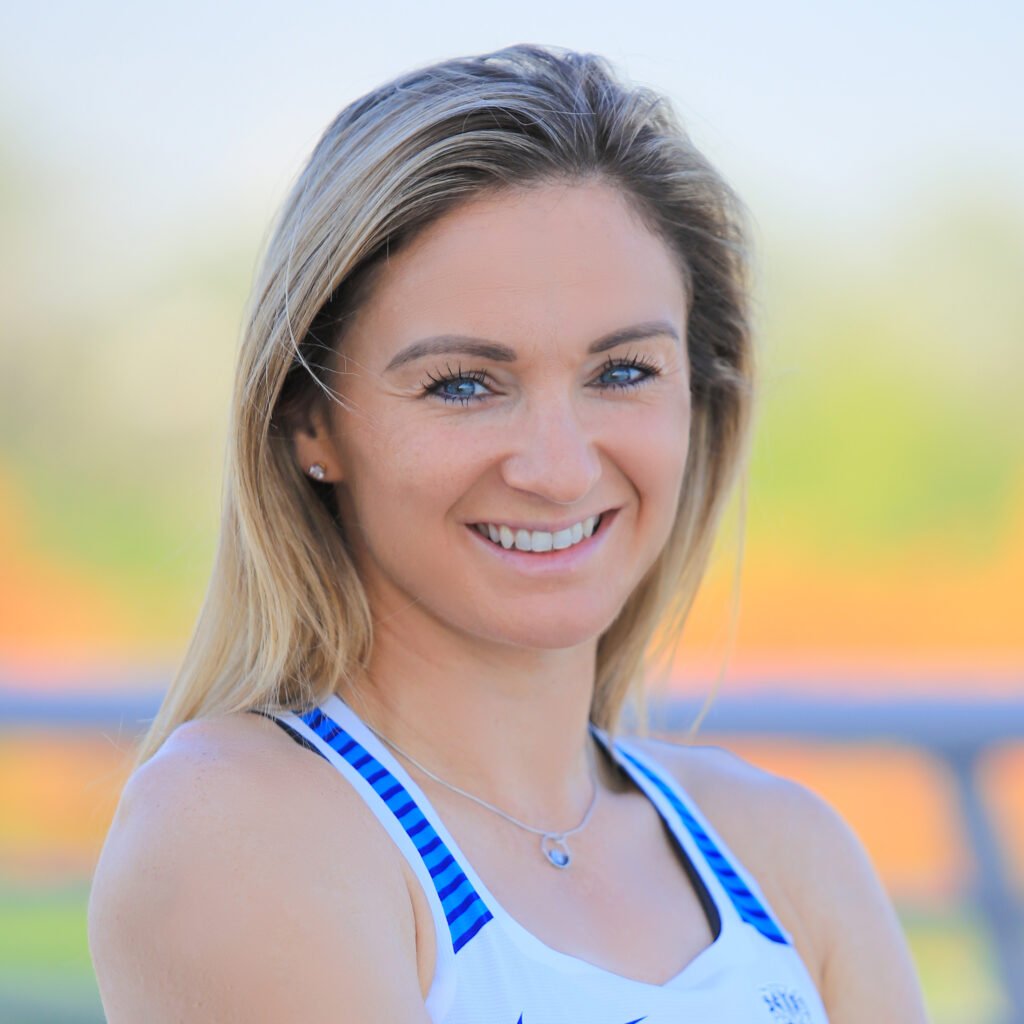 Meryl Cooper brings a terrific passion for Scotland's 'Great Outdoors' alongside her knowledge of physical education to the ambassador group, and the OSS more widely, as we ensure as wide an outlook as possible on sport and its values to all ages and abilities across the country.
Meryl grew up in rural Aberdeenshire on a farm and "was made to play outdoors" in all of her free time. It gave her the fundamentals to then flourish in a range of sports in primary and secondary school. She continued to participate right up until 2018 (by then at 32 years old) in a variety of sports alongside her career as a PE teacher. In 2018 she chose to focus on just one sport after trying out some longer distance trail running the previous year and finding she had great endurance and aptitude on mountainous trails. After a very successful first year in the sport competing internationally, Meryl was then selected to represent Great Britain in 2019 at the Trail World Championships. She finished 6th at the 100km event at the 'unofficial' world cup for ultra-trail running, UTMB (Ultra Trail Mont Blanc), and, in 2021, Meryl was crowned British Ultra-Trail Champion after winning the Lakeland trails 100K British Championship race. She has secured a spot representing Great Britain at the next World Championships (currently re-scheduled for February 2022).
Off the trails, Meryl is now in her 14th year working as a PE teacher, now part-time, as she also runs her own Health and Lifestyle Coaching business, and is a certified ultra-running coach.
"Sport has been absolutely crucial in me growing up to be a healthy, confident and resilient person," she said. "There really is no better way to be prepared for life than sport and I am absolutely delighted to be part of the ambassador team at OSS."